Samsung Galaxy S7 vs. iPhone 6/6s - subiektywny vlog
Przez ostatnie kilka dni miałem okazję testować Samsunga Galaxy S7. Nie zdecydowałem się jednak na przygotowanie klasycznej recenzji, a postanowiłem spojrzeć na tego smartfona jako wieloletni użytkownik iPhone'a, ale i osoba, która dość często z Androidową konkurencją ma styczność. Moje przemyślenia, plusy i minusy S7 oraz iPhone'a 6 oraz subiektywną opinię znajdziecie w poniższym materiale wideo.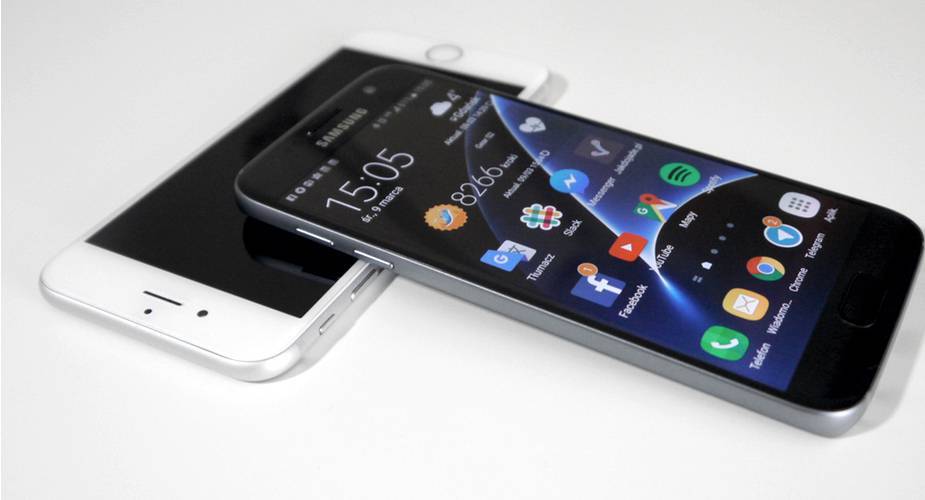 Oba urządzenia to sprzęty klasy premium, które jednak nie różnią się wyłącznie oprogramowaniem, ale i hardwarem, na którym to przede wszystkim się skupiłem. Z jednej strony telefon Koreańczyków jest wodoodporny, ma slot na kartę micro SD, wyróżnia go świetny ekran OLED z funkcją always on i bateria, które pozwoli bez najmniejszych problemów na dwa dni standardowej pracy, a następnie naładowanie w szybki sposób (dwie godziny), dzięki funkcji fast charging. Z drugiej jednaj strony iPhone 6 jest cieńszym smartfonem, a ponadto mniejszym, co może przypaść wielu osobom do gustu. Z kolei nowszy model charakteryzuje się choćby rozwiązaniem pokroju 3D Touch, które zdobyło serca wielu użytkowników.
Zachęcam do rzucenia okiem na porównanie aparatów głównych konkurentów na rynku smartfonów, jakie przeprowadziła redakcja iMore. Od siebie mogę dodać jedynie, że o ile w przypadku zdjęć w dobrym świetle fotografie są nieco inne, ale stoją na podobnym poziomie, tak przy słabym oświetleniu telefon Samsunga radzi sobie lepiej. Warto też w tym momencie dodać o optycznej stabilizacji obrazu, której mniejszy iPhone jest pozbawiony i niesamowicie szybkim łapaniu ostrości przez kamerę.
Na koniec chciałbym napisać kilka słów o oprogramowaniu. Nie teraz moment na zestawianie Androida z systemem iOS, bo to temat na zupełnie inny artykuł. Chciałbym jednak nadmienić o szybkim włączeniu kamery w Galaxy S7, funkcji gier i trybie Always On Screen, o którym pisałem wyżej. Mimo iż na papierze koreański konkurent iPhone'a radzi sobie od niego lepiej, tak przy rzeczywistym użytkowaniu ciężko mi zobaczyć różnicę i wydać wyrok, które urządzenie jest szybsze. Zachęcam jednak do zobaczenia porównania szybkości, które daje minimalny pogląd na ten temat. Warto również zapoznać się ze specyfikacją techniczną S7 i 6s.