Nowe gry w Apple Arcade (13.12.2019)
Ostatnio tempo pojawiania się nowych gier w Apple Arcade znacznie spadło, mimo zapowiedzi Tima Cooka, że nowe tytuły pojawiać się będą w tej usłudze w odstępach tygodniowych. Tymczasem po trzech tygodniach od pojawienia się w w tej usłudze nowych gier, Apple dodało do niej tylko jeden nowy tytuł - Ultimate Rivals: The Rink.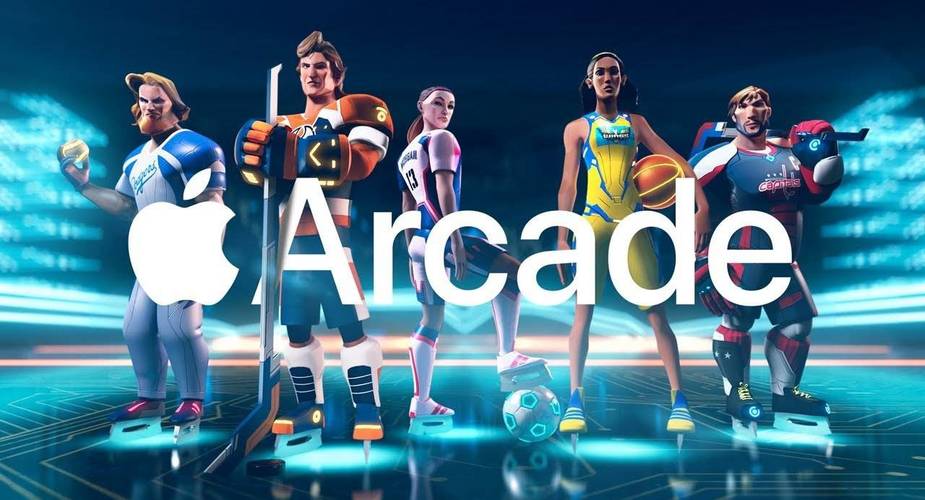 Ultimate Rivals, stworzone przez Bit Fry Game Studios, to gra w hokeja, w której występują znani hokeiści, piłkarze, koszykarze, baseballiści obojga płci. Ma być to pierwsza gra z serii. W kolejnych grać się ma w piłkę nożną, football amerykański czy baseball. Gra dostępna jest w Apple Arcade zarówno dla iOS, tvOS jak i macOS.
Aktualna, alfabetyczna lista gier w Apple Arcade dla iOS, iPadOS, tvOS i macOS
ChuChu Rocket! Universe (SEGA)

Creaks (Amenita Design)

Cricket Through the Ages (Devolver Digital)

Crossy Road Castle (Hipster Whale)
Dead End Job (Headup)

Dear Reader (Local No. 12)

Decoherence (Efecto Estudios SAS)

Discolored (Shifty Eye)

Dodo Peak (Moving Pieces)

Don't Bug Me! (Frosty Pop)

Doomsday Vault (Likeitalot Ltd)

Down in Bermuda (Yak & Co)

Dread Nautical (Zen Studios)

Dzieje się nocą / Things That Go Bump (Tinybop)
EarthNight (Cleaversoft)

Exit the Gungeon (Devolver Digital)

Explottens (Werplay Priv.)

Fallen Knight (FairPlay Studios)
Fledgling Heroes (Subtle Boom)
Frogger in Toy Town (Konami)

Game of Thrones: Tale of Crows (Devolver Digital / HBO)

Grindstone (Capybara Games)

Guildings(Sirvo Studios)

Hexaflip: The Action Puzzler (Rogue Games)

Hogwash (Bossa Studios)

Hot Lava (Klei Entertainment)

HyperBrawl Tournament (Milky Tea)

Inmost (Hidden Layer Games)

Jenny LeClue - Detectivu (Mografi)

Jumper Jon (Esteban Duran)

King's League II (Kurechii)

Kings of the Castle (Frosty Pop)

Legend of The Skyfish 2 (Crescent Moon Games)

LEGO® Brawls (LEGO)

LEGO® Builder's Journey (LEGO)

Lifelike: Chapter One(kunabi brother)
Lifeslide (Block Zero Games)

Little Orpheus (Sumo Digital Ltd)

Loud House: Outta Control (Nickelodeon)

Manifold Garden (William Chyr Studio LLC)

Marble It Up: Mayhem! (The Marble Collective)

Marble Knights (WayForward Technologies)

Mind Symphony (Rogue Games)

Mini Motorways (Dinosaur Polo Club)

Monomals (PICOMY)

Murder Mystery Machine ( Blazing Griffin)

Mutazione (Die Gute Fabrik)

Necrobarista (Router 59 PTY LTD)

Neo Cab (Surprise Attack Games)

Neversong (Serenity Forge)

Next Stop Anywhere (Night School Studio)

Nightmare Farm

No Way Home (SMG Studio)

Oceanhorn 2: Knights of the Old Realm (Cornfox & Bros)

Operator 4 (Shifty Eye Games)

Outlanders (Outbox SRL)

Over the Alps (Stave Studios)

Overland (Finji)

PAC-MAN Party Royale

Painty Mob (Flee Punk)

Patterned (Borderleap)

Pilgrims (Amanita Design)

Possessions(Noodlecake Studios)

Projection: First Light (Blowfish Studios)

Punch Planet (Block Zero Games)

Rayman Mini (Ubisoft)

Red Reign (Ninja Kiwi)

Redout: Space Assuault

Reigns: Beyond (Devolver)

Rosie's Reality (Rosie's Reality)
Roundguard (Wonderbelly Games)

Samurai Jack: Battle Through Time (adult swim)

Sayonara Wild Hearts (Annapurna)

Scrappers (Q-Games Ltd).

Secret Oops! (Mixed Bag Srl)

Shantae and the Seven Sirens (WayForward Technologies)

Shinsekai Into the Depths (Capcom)

ShockRods (Stainless Games)

Skate City (Snowman)

Slash Quest (Noodlecake)

Sneaky Sasquatch (Rac7 Games)

Sociable Soccer (Rogue Games)

Sonic Racing (SEGA)

South of The Circle (State of Play Games)

Spaceland (Tortuga Team)

Speed Demons (Radiangames)

Spek(Rac7 Games)

Spelldrifter (Free Range Games)

Spidersaurs (WayForward)

SpongeBob: Patty Pursuit (Nikelodeon)

Spyder (Sumo Digital Ltd)

Star Fetched (Crescent Moon Games)
Stela (SkyBox)

Stellar Commanders (Blindflug Studios)

Stranded Sails (Shifty Eye Games)

Super Impossible Road (Rogue Games)

Super Mega Mini Party ((Red Games Co)

Takeshi and Hiroshi (Oink Games Inc.)

Tales of Memo (TENDAYS STUDIO)

Tangle Tower (SFB Games)

The Bradwell Conspiracy

The Collage Atlas (John William Evelyn)

The Enchanted World (Noodlecake Studios)

The Get Out Kids (Frosty Pop)

The Last Campfire (Hello Games)

The Lullaby of Life (1 Simple Game)

The Moisaic (Raw Fury)

The_Otherside (The Label)

The Pathless (Annapurna Interactive)
The Pinball Wizard (Frosty Pop)

Tint(Lykke Studios)

Towaga: Among Shadows (Noodlecake Studios)

Towers of Everland (Cobra Mobile Limited)

UFO on Tape: First Contact (Revolutionary Concepts)

Ultimate Rivals: The Rink (Bit Fry Game Studios)
Unleash the Light (Turner Broadcasting)

Various Daylife (Square Enix)

Way of the Turtle (Illusion Labs)

WHAT THE GOLF? (The Label)

Where Cards Fall (Snowman)

Winding Worlds (KO_OP)

Word Laces (Minimega)

World's End Club (Izanagigames)