Nasz długoletni czytelnik – Acidov – odwiedził Apple Park i podzielił się swoimi wrażeniami oraz zdjęciami, które wykonał. Serdecznie zachęcam Was do lektury jego wpisu oraz zapoznania się z dodatkowymi fotografiami, które zamieściłem w serwisie Flickr.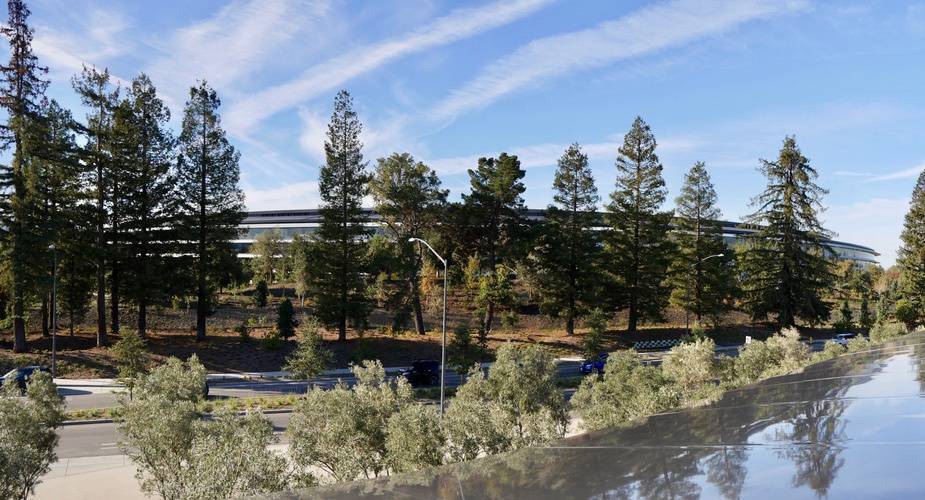 Ze względu na pracę Apple Park mogłem odwiedzić dopiero w sobotę, dzień po oficjalnym otwarciu. Na miejsce dotarłem koło południa. Było dość tłoczno ale spodziewałem się większych tłumów. Centrum dla zwiedzających podzielone jest na trzy połączone ze sobą części - kawiarnię, sklep i salę z makietą, w której można zaopatrzyć się w specjalne iPady z zainstalowanym oprogramowaniem do wirtualnej rzeczywistości. W podziemiach znajdują się toalety a na pierwszym piętrze taras widokowy. Uwaga dla profesjonalnych fotografów - nie róbcie zdjęć wewnętrz budynku z filtrem polaryzacyjnym. Szklane moduły tworzące ściany tak zniekształcają światło, że przy stosowaniu filtra polaryzacyjnego pojawiają się na nich ciemne plamy. Zmiana ustawień nie pomogła. Szczęśliwie zauważyłem to w miarę wcześnie. Fotografuję dużo i pierwszy raz spotkałem się z takim zjawiskiem.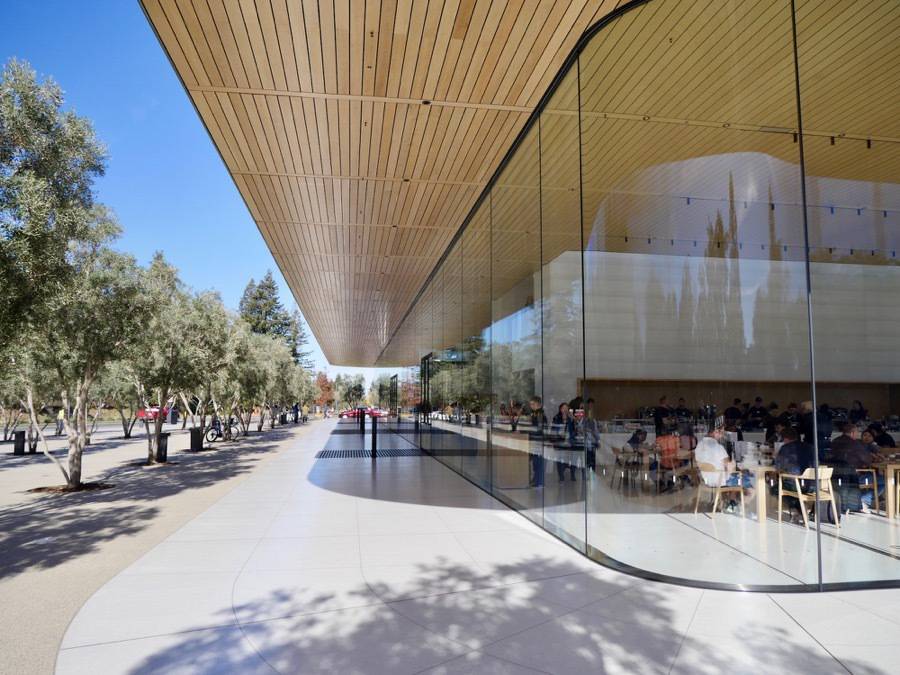 Dolina Krzemowa jest dość dobrze skomunikowana ze sobą i można się swobodnie poruszać bez samochodu po całym obszarze między San Francisco a San Jose. Niestety dotarcie do nowej siedziby jest średnio wygodne z przystankami autobusowymi widocznymi w mapach Google ale już nie w rzeczywistości. Nie było nawet jednej tabliczki czy kartki. Wracając po prostu stanąłem tam, gdzie pokazał system GPS i rzeczywiście autobus zatrzymał się dokładnie w wyznaczonym miejscu.
Po kolei. Budynek robi imponujące wrażenie od strony ulicy - samo szkło z bardzo cienkim i płaskim dachem. Wygląda to fenomenalnie, zwłaszcza w słoneczny dzień (co w Cupertino jest zjawiskiem częstym). Zaraz po wejściu odwiedziłem kawiarnię, która oferuje, poza kawą i herbatą, wyłącznie zimne przekąski w postaci batonów, czekoladek i orzechów. Wybór jest bardzo skromny ale za to ceny przystępne (co w Dolinie Krzemowej jest raczej niespotykane). Producenci oferowanych przekąsek raczej nie należą do mainstreamu. Próżno szukać snickersów czy M&M's. Menu dostępne jest na iPadach, po wybraniu odpowiednich pozycji podchodzi się do pracownika z terminalem, podobnie jak ma to miejsce w każdym Apple Store, gdzie realizowana jest płatność. Gdy napój jest gotowy obsługa wywołuje po imieniu (niczym w Starbucksie). Za latte i batona zapłaciłem $9 i to jest mniej więcej połowa tego co zapłaciłbym w lokalnym Starbucksie. Kawa była ok, pijałem lepsze i gorsze, baton zdecydowanie z rodzaju tych dietetycznych, ekologicznych i zdrowych.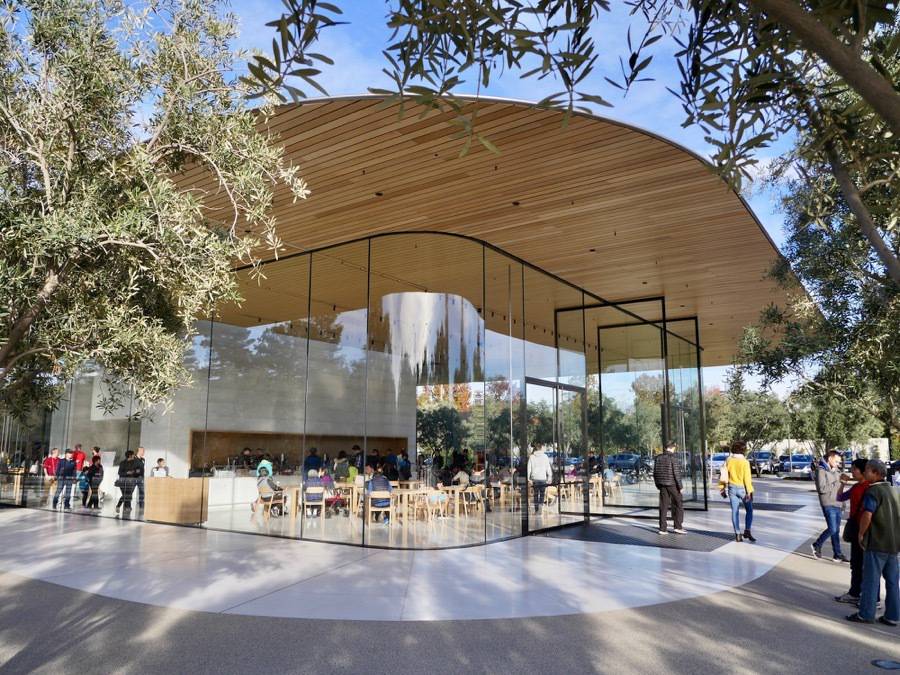 Bezpośrednio z kawiarni przechodzi się do środkowej części - sklepu sporych rozmiarów. Oferta firmowych gadżetów jest imponująca, znacznie większa niż w starym sklepie przy Infinite Loop. Większość gadżetów widziałem po raz pierwszy - zestawy pocztówek prezentujących historyczny i aktualny sprzęt Apple (są to miniaturki zdjęć z wydanego niedawno albumu). Dostępne są trzy zestawy, po $20 każdy. Poza tym czapki z daszkiem (bardzo dobre jakościowo), karty do gry (z tworzywa sztucznego), torby na zakupy wykonane z materiału, który się nie brudzi i jest łatwy w czyszczeniu (w dotyku przypomina ortalion) a nawet śpioszki dla dzieci. Standardowo dostępna jest cała gama sprzętu Apple, najwyraźniej z jubileuszowym iPhonem dostępnym od ręki włącznie, gdyż wielu klientów opuszczało budynek z takim właśnie zakupem. Sklep nie znajduje się jeszcze w oficjalnym spisie na stronie internetowej Apple więc nie można było zamówić iPhone'a wcześniej z opcją odbioru na miejscu.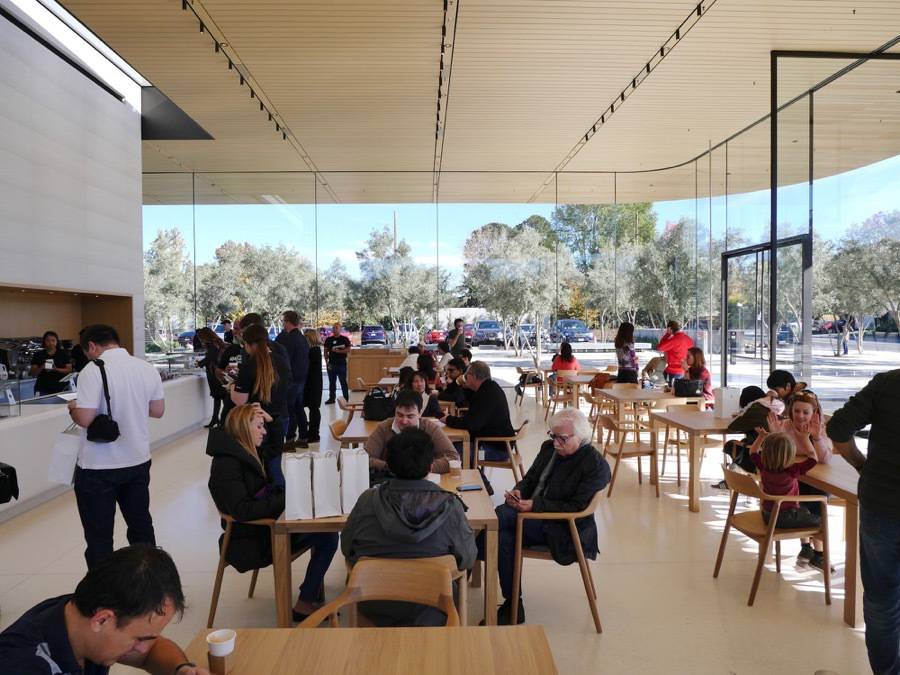 Najbardziej zdziwił mnie sposób ekspozycji części sprzętu, nie wiem czy to nowa polityka we wszystkich salonach Apple czy tylko w tym jednym sklepie. Mianowicie wiele rzeczy zostało przyklejonych do stojaków lub ścian. Przykładowo proces wyjmowania iPada z nowego etui został zobrazowany przez trzy wywieszone obok siebie etui, z iPadem wysuniętym na różną wysokość z każdego z nich. W każdym przypadku iPad został przyklejony do etui od środka, łącznie z Apple Pencil. Paski do zegarków Apple Watch Hermes zostały utwardzone jakąś specjalną żywicą żeby zachować finezyjne kształty na wystawie (widać to na jednym ze zdjęć). Problem w tym, że wszystkie te przyklejone i utwardzone rzeczy są na wyciągnięcie ręki zwiedzających. Natura ludzka jest taka, że jak coś jest przyklejone to prędzej czy później ktoś będzie próbował to odkleić. Nie inaczej było tym razem. Już w drugim dniu po otwarciu część wystawy była zniszczona z widocznymi śladami po kleju. Nie jestem fanem takiej ekspozycji towaru i mam nadzieję, że Apple szybko zrezygnuje z tej formy.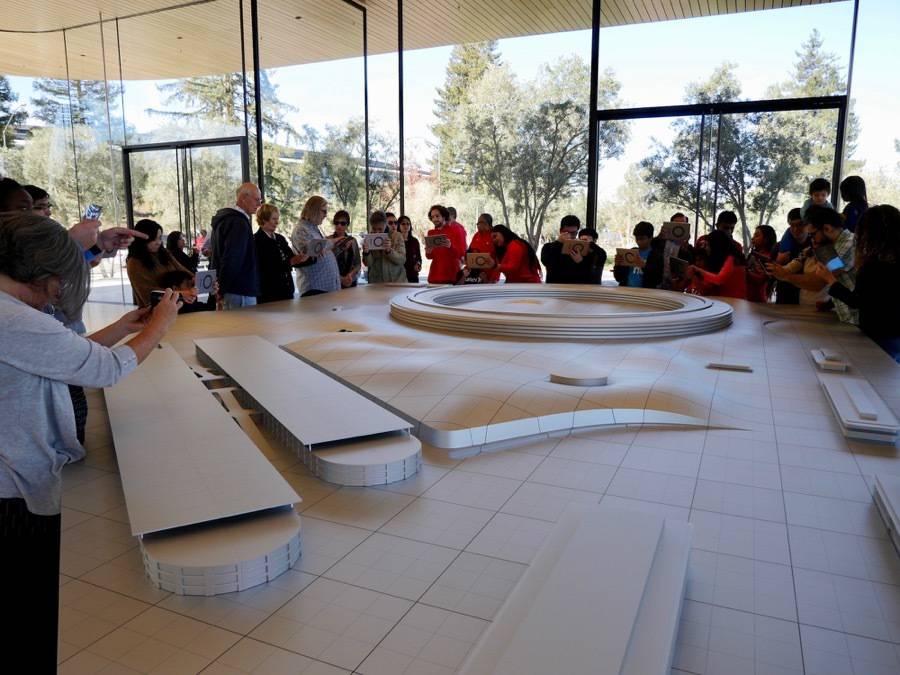 Największe rozczarowanie czekało na mnie na pierwszym piętrze. Zgodnie z wcześniejszymi przypuszczeniami (o czym pisałem w sierpniu) taras widokowy jest położony zbyt nisko by można było podziwiać w pełni główny budynek kampusu. W dodatku drzewa skutecznie go przysłaniają (rozumiem, że to celowy zabieg mający na celu chronić prywatność pracowników w budynku ze szklanymi ścianami). Wielka szkoda jednak, że tak imponująca budowla jest praktycznie niedostępna dla zwiedzających. Podobny widok oferuje parter, nie trzeba nawet wspinać się na górę. Widoczne zdjęcie zostało zrobione ze wspomnianego tarasu z aparatem trzymanym w wyciągniętej ku górze dłoni (a mam ponad 1,80 wzrostu). Lepszego widoku już nie zobaczycie. Zostają drony.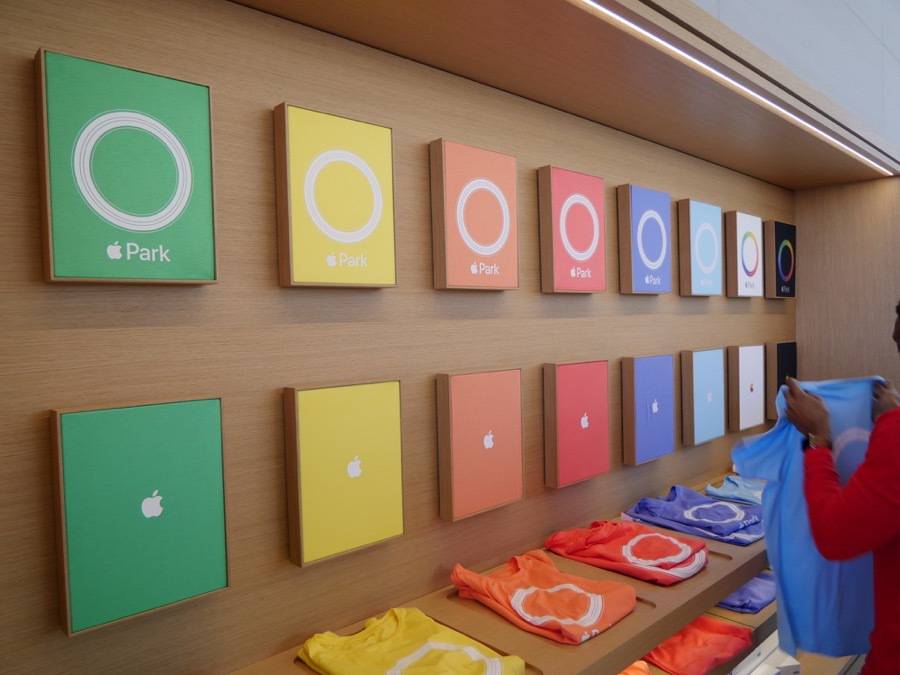 Podsumowując, całość robi imponujące wrażenie. Obecna pobliska siedziba Google (wraz z firmowym Google Store) wygląda teraz dosyć mizernie (zwłaszcza sklep pozostawia wiele do życzenia z kiepskiej jakości asortymentem). Nie ma w ogóle porównania do tego co zbudowało Apple. Mieszkam tu od ponad roku i właściwie żaden z miejscowych gigantów nie może się nawet zbliżyć rozmachem do Apple Park. Niewątpliwie jest to miejsce, które chociaż raz warto odwiedzić do czego gorąco zachęcam.